What Has Changed in 50 Years?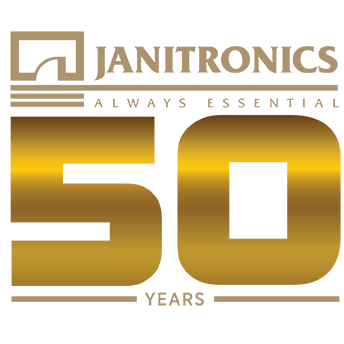 A lot has changed in the time since Janitronics was founded in 1972, especially in the ever-evolving fields of business, technology, and health. But we have always striven to meet the highest current standards, especially in cleaning for health.
Best Practices in Cleaning
Did you know that hospital cleaning used to be exclusively for appearance purposes? Patient room "housekeepers" operated with hotel-staff efficiency, turning over a room in 38 minutes or less, which doesn't leave much time for disinfection. Even office janitorial staff were more concerned with how a space looked than how clean it really was. Emptying trash cans and ash trays, using inefficient upright vacuums, and only cleaning windows sporadically were the standard "best practices" of the past. Cleaning is no longer a matter of aesthetics, but rather a matter concerning life and death.
Today's goals for cleanliness are much loftier; a room free of viruses is ideal, but it's also much more difficult to achieve cleanliness when the "dirt" is invisible. In the wake of the COVID-19 pandemic, hospital cleaners must now be experts in disinfection for the safety of everyone involved: patients, hospital staff, and the cleaners themselves. One of Janitronics' core values is using science-based methods to ensure a cleaner and healthier space. We've been focused on health since the beginning.
Some Janitronics regional offices now implement "terminal cleaning" at medical facilities. This technique is used specifically to reduce the likelihood of patients getting an infection during their hospital stay. Terminal cleaning involves disinfecting every surface, including lighting fixtures and air ducts, from the top of the room downwards. Cleaning progresses from low-contact to high-contact areas, so that biocontaminants aren't spread to cleaner areas. By using this method, Janitronics helps to ensure the health and safety of both our clients and the people they serve in turn.
Forms of no-touch disinfection are another recent technological advancement. Janitronics' Electrostatic Spraying is one such type of disinfection; after removing debris, an entire space can be cleaned with minimal (if any) contact from our staff.
While appearance is an important aspect of cleanliness, the focus has rightfully shifted to safety instead of looks. Janitronics has always had a mission of cleaning for health, and our standards have kept pace with evolving best practices to go beyond the surface.
New Business Realities
Every company in the professional cleaning industry relies on its people, and Janitronics is no different. Unlike some companies, however, Janitronics has managed to maintain both our staff's level of professionalism and our high standards for results, not only for the past five decades but also through the turbulence of pandemics and recessions.
The labor market has changed dramatically in half a century; some companies suffered, but we used it to our advantage. We have always said that our employees are more than "just janitors," and our commitment to them proves that. Our continual training means not only that our staff receive the attention needed to retain them, but also that they become highly-trained workers regardless of their previous level of expertise.
Once we knew that people would be the core of our company, our business model grew to reflect that principle. Our team-based cleaning system ensures higher efficiency, cleanliness, and accountability, which combine for better results (and lower costs) for our clients. Our consultation services, which have worked with over 3000 organizations, aim to disseminate these methods to keep the world cleaner and healthier across industries.
In light of recessions and bouts of inflation, many competitors tried to cut costs or shift their business models to supplies instead of services. Because we doubled down on our commitment to our employees and the services we provide, we have less staff turnover and our business is stronger and more sustainable than ever.
It is evident not only in our business certifications, but in our business practices themselves, that Janitronics is a leader in the facilities management industry. Our best practices and the methods we have developed are now industry standards for companies which share our goals and our commitment to employees.
What Does the Future Hold?
Half a century in business is an achievement in itself. It means we've had to learn how to grow and adapt in the face of change. It also means we have seen trends and competitors come and go many times over. We now know how to operate with a focus on the long term while still achieving immediate quality results for our clients.
Janitronics is already looking ahead to our next 50 years as the experts of cleaning. With more recent research on the environmental effects of cleaning products, new "green cleaning" methods are on the rise. We try to use reusable products when possible, and environmentally preferred products when we can't.
Our business practices are just as important as the results we provide to our clients. Through three generations of cleaning expertise, we have remained and will continue to strive for excellence in business and in health. If you want science and expertise on your side for the future of your business, reach out to us today to learn more about our suite of services.