Special Services
Janitronics isn't just here for the day to day operations. For any moment you need help cleaning up, Janitronics has your back.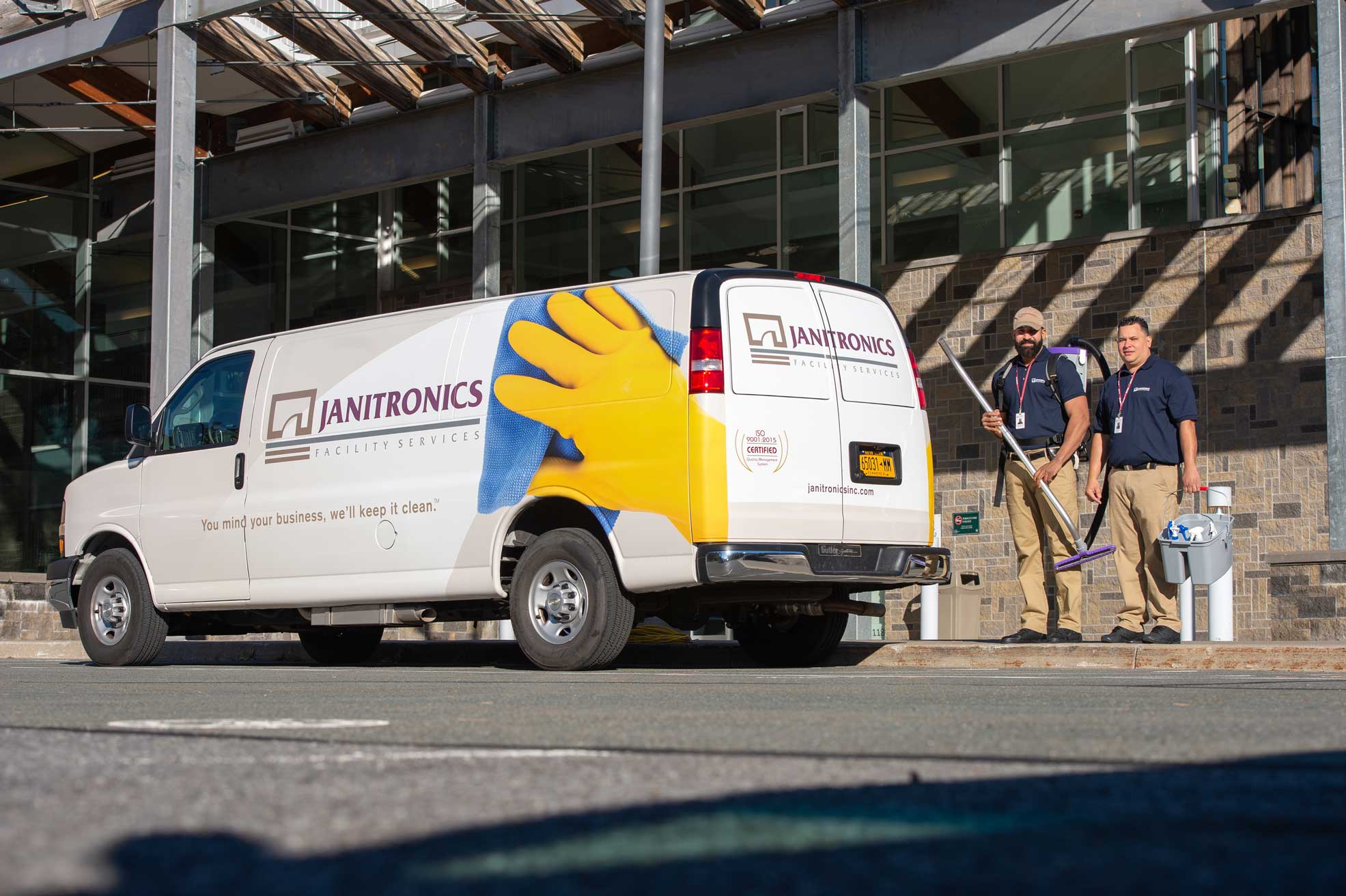 "Special Services" is a division of Janitronics that provides the following services on an on-time basis. These services can be billed separately or included in the program.  The cost to a regular customer for each service has been appreciably reduced in accordance with our policy of providing preferential treatment to customers.
Complete carpet care including hot water extraction, low moisture cleaning, anti-static and soil retardant treatment.
SaniGLAZE tile and grout restoration.
Ceiling tile cleaning - porous ceiling tiles can be bleached to look new.  Stains around air vents can be eliminated.
Wall washing — painted, wallpapered and paneled surfaces. 
Upholstery cleaning — wet and dry methods.
Window cleaning — interior and exterior.
Gym floor care including polishing, stripping, and refinishing. 
Total floor care for tile and concrete floors — stripping, re-coating and buffing. 
Emergency water damage cleaning — emergency calls from the calls from the customer are handled on a "Priority One" basis. 
Ultrasonic blind cleaning.
Electrostatic spraying and sanitization.
Construction Cleaning
The final project can look like a disaster zone after the construction dust settles. Janitronics is prepared to go in and make the final project truly beautiful. No matter the size or how much you have already moved in, we are ready to make the end results as stunning as you dreamed them to be.
 
Carpet Extraction
There's cleaning a carpet, and then there's deep cleaning a carpet. Daily vacuuming does the best that it can. But sometimes things get deep into the carpet before anyone can even pull out the vacuum. Or worse, a liquid soaks into your carpet before you can even look for the napkins. In these cases, carpet extraction is used to get to the deep corners of your beloved floor.
We first vacuum to get as much off the carpet as possible before the process begins. Then using a mixture of hot water and cleaners, paired with our state-of-the-art carpet extractor, we can get to the suspended particles before they come back to haunt your carpet. With proper and timely maintenance, this can extend the life of your carpet far beyond what vacuuming can do alone.
To see our other carpet cleaning services, click here.
VCT Reconditioning
Vinyl composition tile can be some of the most favorable choice of flooring due to how easy it can be cleaned. However, just like every other kind of flooring, there comes a time when the floor becomes dull with wear and tear. Our VCT reconditioning services will bring those floors back to life, not only bringing out the best shine but extending the life of the floor itself.