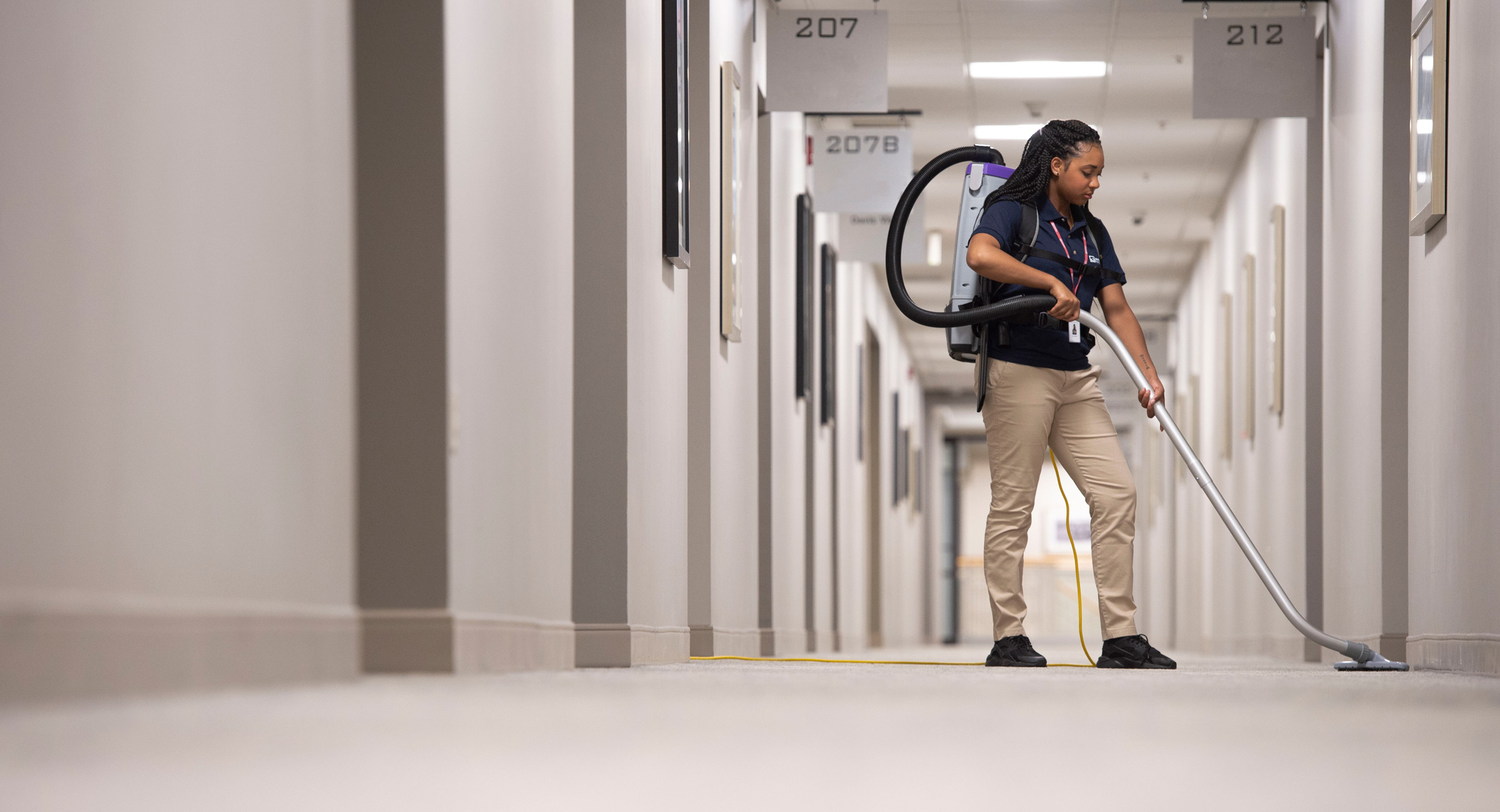 Custodian of More than Appearances
Cleaning goes beyond just appearances. Areas that look clean can contain an untold number of contaminants. And for every bacteria, virus, and bio-contaminant that is left behind, it is another factor that can put your health at risk.
If science is telling us that there are things left on the surface, then we utilize the best of science to get rid of it. Janitronics' philosophy of cleaning for health pushes us to use proven practices and techniques when we clean. Sanitization and disinfection are part of our daily routines.
Where Janitorial Meets Science
To fight dirty, Janitronics has turned cleaning itself into a science. We don't use the word "science" lightly either. We collect data, not only of the precise square footage of your facility and all of the surfaces we will encounter, but the effectiveness of our cleaning methods over time through the use of ATP meters. We use cutting edge technology that is not only efficient but environmentally friendly. Any equipment of supplies that we choose are done in a conscience effort for our clients, our employees and our environment.
The team concept holds each individual accountable for a responsibility, interdependent with fellow staff members. The design of our cleaning systems create discipline by requiring each specialist to only perform his or her specific assignment. The Light Duty Specialist and the Vacuum Specialist operate in tandem with the Light Duty Specialist leading and the Vacuum Specialist closing down the assigned area. They normally do not have contact with the Restroom Specialist or the Utility Specialist, who complete their own set of tasks with high efficiency. The system collectively works extremely well by allowing each specialist to play each role effectively.
Quality inspections are built into our cleaning systems. Both ourselves and our customers review the work done by our staff, and inefficiencies are corrected immediately when discovered. Using this as both a measure of continuing improvement and employee training needs, we can guarantee a clean environment for our customers.
 
SysteamClean(R)
SysteamClean provides the best possible training for disciplined cleaning systems. We know; we made it ourselves.

When workers can focus and master one discipline, we can save our customers time, money, and frustration. SysteamClean teaches employees how to work in our interdependent cleaning system.
To learn more about SysteamClean, check out our SysteamClean Website.
 
Green Cleaning
Janitronics is not simply satisfied with traditional cleaning, and neither should you. We believe that we can clean for both health and the environment. Every choice that we make, from the products that we use to our cleaning methods to our timing, leaves an impact.
So we make the right choices. We use reusable products whenever we can. When we can't, we choose environmentally preferred products and train our employees how to use those products effectively. Recyclable items are disposed of properly. 

A healthy indoor environment is an act of man. Let's make sure the outdoor environment stays just as healthy.