Sanitizing & Cleaning Solutions
Cleaning for appearance sake has never been enough. Now more than ever, we must look towards proper sanitization to ensure the health and safety of all who walk through our doors. There is no one size fits all solution for this undertaking. Instead, Janitronics will work with you and analyze your facility so that we are meeting your specific needs. With the latest in touchpoint and surface disinfectant technology, we will help you maintain a safe and healthy environment.
When reopening your facility means putting the health and safety of your employees and customers first....we're on it!
Clean4Health
Our highly skilled and professional team is prepared to help you safely repopulate your facility by cleaning for health, using the best techniques science has to offer. Our Clean4Health program ensures your facility has the best sanitization and cleaning services available, including:
• Electrostatic Spraying
• Fogging/Misting
• COVID-19 Response
• Deep Clean & Sanitization
• Touchpoint Cleaning, Day Porter/Matrons
• EPA Registered Disinfectants
• Site Assessment and Risk Mitigation
• GBAC Certified Technicians (Global Biorisk Advisory Council)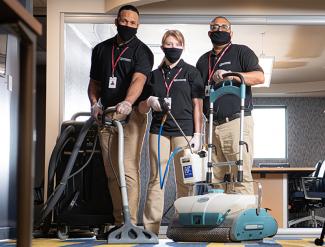 Non-toxic & NIOSH/OSHA compliant
Using a combination of electrostatic spraying, fogging, and detailed wipe down of targeted areas using EPA registered disinfection, Janitronics is prepared to help you experience minimal downtime.
Following a written procedure and detailed assessment of your facility, we can provide a deep clean for reopening a facility, or respond to a COVID-19 related situation.
This service is a more detailed and thorough service focusing on areas that could have been touched or exposed. This includes cleaning and removing debris from surfaces, spraying with disinfectant, dwell time, and wipe dry. The deep clean is offered as a proactive service as well as a response to a confirmed case.
Electrostatic Spraying
Sometimes, even the best efforts of conventional cleaning aren't enough. Furniture pieces and important equipment can have crevices that require time and effort to properly clean. Getting to all of those spaces often drive labor and time costs to unreasonable heights. But ignoring those spaces would mean ignoring the germs and bacteria that are there.
Electrostatic spraying and fogging uses science to change that. By using technology to charge a disinfectant spray, we are able to clean even hard-to-reach places. This revolutionary cleaning method gets to all exposed surfaces with an even coating of the spray. This ensures that all of the surfaces are sanitized, all done within a short amount of time. With the speed and accuracy of electrostatic spraying and fogging, Janitronics can more effectively help you manage the health of your facility
Benefits of Electrostatic Technology
Touchless delivery of electrostatically charged disinfection tablets
Portable and cordless
Easy to operate
Covers 360 degrees of a 500 sq/ft area in under 3 minutes
88% time savings vs. any chemical application, disinfection or sanitization process
EPA registered sanitizer and disinfection tablets, easily dissolve in water
Safer for humans, materials and the environment
Eliminates and controls odors
NSF D2 Certified Food Contact Surface Safe Sanitizer at 100 ppm
Kills Norovirus, MRSA, Cold and Flu viruses
FAC85: Environmentally Preferable Cleaning Products
NIOSH/OSHA compliant
Safer alternative to bleach with no compromise on cost, efficacy or convenience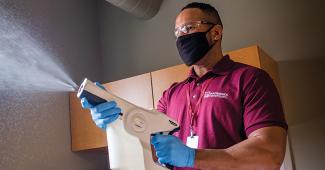 Touchpoint Cleaning
The most used surfaces are perhaps the most overlooked when it comes to cleaning and health. Door handles, elevator buttons, and other such surfaces are touched by dozens or hundreds of people daily. If a single one of those people is sick, everyone is at risk.
We recognize that maintaining a facility is not a one size fits all approach, which is why Janitronics offers several options for facility touchpoint cleaning. Where you are in a traditional office or in an industrial setting, we offer touchpoint solutions to integrate into your workplace. Each program is specifically designed to fit different needs based on application and choice of implementation. Through increased levels of clean and perception to ongoing and preventative measures, Janitronics has the right solution to fit the needs of your facility.
 
Hand Sanitizers Dispensers & Stations
Janitronics offers implementation, installation, and maintenance of Purell Hand Sanitizer dispensers that both targets levels of clean and perception of building occupants and visitors. 
 
Rapid installation
99.99% effective in preventing the spread of germs
Promotes good hygiene and health
Reduces waste
Inexpensive
Faster than hand washing
Increased facility exposure vs. sinks
Does not promote antimicrobial resistance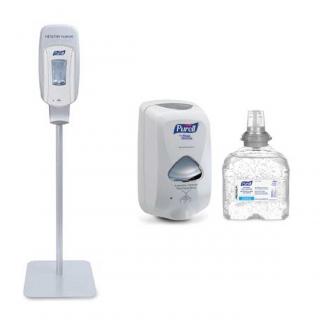 Hands-On Touchpoint Cleaning
Janitronics provides additional services on facility touchpoints separate from standard cleaning  operations. Increased visibility of cleaning and building occupant perception of  cleanliness skyrockets with our facility touchpoint cleaning service.
 
This offering uses microfiber and EPA-registered disinfectant solutions on high risk areas (entranceway, break areas, meeting areas, common spaces, etc.), focusing on high-touch objects.
 
Benefits
Deep cleaning of frequently touched areas
Increased exposure of cleaning to building personnel 
Inexpensive
Rapidly implemented