The Benefits of Expert Facilities Management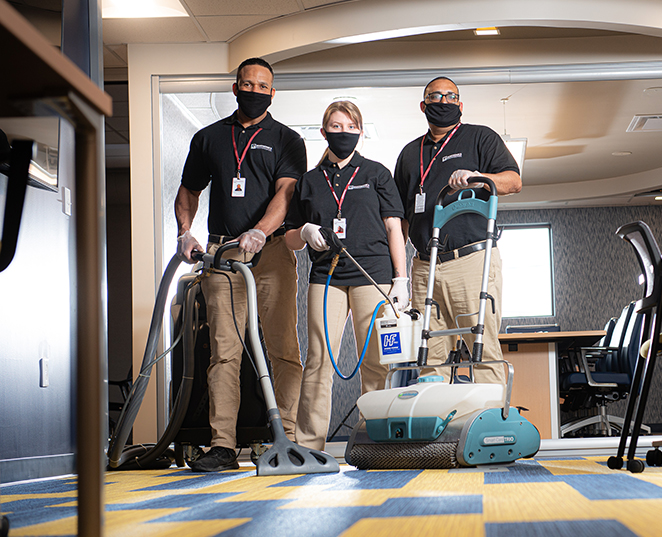 Many companies, especially larger ones, believe that orchestrating their own facilities management duties will save money and reduce headaches because they're the ones in control. This assumption is largely untrue. Here are the reasons why it's time for you to entrust your cleaning and facilities management to the experts.
The Business Perspective
When you want to focus on your business, managing your own cleaning can feel like a hassle. If you currently manage your cleaning services internally, that typically means you have to handle hiring, training, and HR for those custodial employees. These tasks are time and cost intensive on their own, let alone on top of your regular business operations.
The costs associated with managing an in-house cleaning staff will always be in addition to your regular day-to-day operating costs. Even if they're calculated into your budget, these costs are extraneous for your company. For Janitronics, managing a cleaning staff is a central aspect of our business. We undertake those costs in the course of our normal operations. Plus, after 50 years in the industry, our connections for supplies, labor, and equipment are more reliable and cost-effective. Bringing on Janitronics would mean a single line on your budget, one that is fair, instead of the massive expense handling cleaning on your own entails.
Your training likely focuses on the services or products you offer, whether that's accounting, teaching, or manufacturing. Our hiring and training processes are geared towards turning a regular worker into a cleaning and disinfection expert with an advanced skill set. Janitronics' employees are better trained than the average in-house employee, and our continual training and learning programs ensure that they stay on top.
Our decades of experience mean we have made it our business, literally, to provide the highest level of cleaning services to our clients. Our ISO 9001 certification means that our business practices are top-tier, so you can leave the hard work to us while you focus on moving your company forward in your industry.
The Cleaning Perspective
Janitronics' core mission since our founding has been cleaning for health by using scientific methods. Our commitment to that mission means we can confidently say that we are the experts in cleaning, not just in the areas we serve but in the industry as a whole. Our founder, Jim Harris, Sr., was also one of the founders of the Cleaning Industry Research Institute (CIRI). CIRI promotes many of our own values: cleaning for health, utilizing science-based methods and standards, and employing highly-trained staff.
Our team-based cleaning methods, in which each person focuses on a specific set of tasks, has led to higher efficiency in cleaning (and lower costs for our clients). When we assess a space, our data on square footage and cleaning needs is as precise as possible to build a cleaning plan that is tailored to each client's space.
After being present as a leader in the professional cleaning industry for so long, we know how to identify what's a passing trend and what's going to be a groundbreaking advancement. We pay particular attention to standards for cleanliness and reducing our environmental impact, which has led to our partnership with AIRBOX air purifiers and our CIMS-GB certification, respectively. We have a finger on the pulse of the industry that you may not, simply because we make knowing about the future of cleaning one of our top priorities.
Since cleaning and facilities management is our business, we are always prepared with the expertise, resources, and readiness to respond to emergencies. In-house cleaning staff likely don't have the flexibility to handle something out of the ordinary, such as responding to a workplace COVID-19 infection or emergency water clean up. Being prepared for such a scenario is built into our business model; when we respond, you have fewer things to worry about.
Janitronics: The Obvious Choice
There's a reason our long-time motto has been "You mind your business, we'll keep it clean." Our level of expertise means that when we present you with that guarantee, we mean it. By handing off your facilities management to Janitronics, you have fewer things on your plate and can devote more time to the elements of your company that matter most to you.
Our goal is to continue serving our clients the best that we can by remaining a leader in the industry. If you're ready to take the next step to streamlining your business (and keeping it clean), reach out to us today.