What is CIMS Certification?
Janitronics remains dedicated to providing the highest standards of cleaning. We continue to prove our commitment through third party evaluation and certification.
Recently, Janitronics renewed our CIMS certification with ISSA. (More specifically, we received our CIMS-GB with Honors.) This will be our seventh time holding this certification, showing that our strive for quality has always been a part of our goals.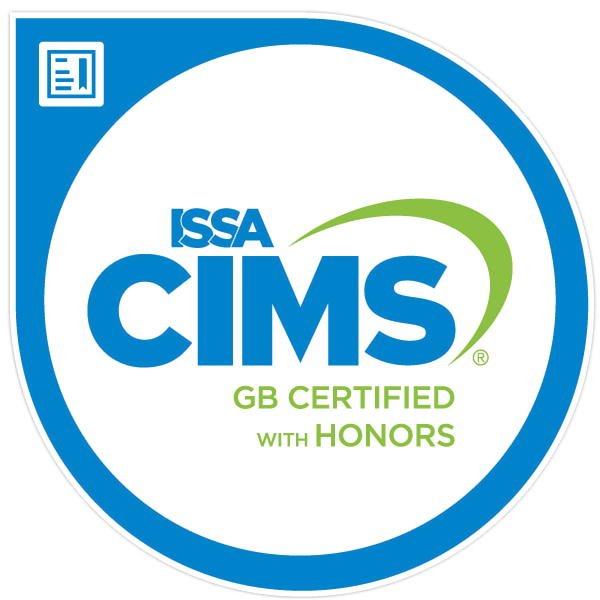 What is ISSA?
In 1923, Alfred Richter founded the National Sanitary Supply Association. Richter wanted the industry experts to come together and share ideas. He is quoted saying:
"I realized there was a great deal I did not know about the business. I presumed that a conference of successful distributors, drawn from various metropolitan cities, would result in an exchange of ideas that would be beneficial to all."
(From the "Association History – ISSA" page, found here.)
The organization was popular, so much so that they had members from around the world despite their national focus. To better reflect their diverse membership, the name was changed to the International Sanitary Supply Association in 1966.
The name was officially changed again in 2005. That was when the association decided to include cleaning service providers amongst their ranks. While they kept "ISSA" as a nod to their history, today it is no longer an acronym. The ISSA's full name is "ISSA – The Worldwide Cleaning Industry Organization."
The core values of the group have remained consistent throughout its existence: uniting the cleaning community not only to promote the industry but also to serve the community at large. As they say on their vision, missions, and values page, "increasing the appreciation for cleaning as an investment in human health, the environment, and an improved bottom line."
What is CIMS?
CIMS stands for Cleaning Industry Management Standards. They are a group of characteristics ISSA has identified as indicators of quality cleaning companies. They include:
Quality systems
Service delivery
Human resources
Health, safety, and environmental stewardship
Management commitment
Green Building/LEED EB: O&M compliance for the CIMS-GB designation
You can learn more about the CIMS stands and qualifications here.
The certification process involves many steps, with the final ones including review and verification by a third party authorized by ISSA. Like the ISO 9001:2015 certification (which we've discussed before here), this helps clients know that they are working with a quality company no matter where in the world they are.
There is a further certification an organization can reach: CIMS-GB. GB stands for Green Building. This is an additional set of requirements based on LEED-GB requirements. These are green cleaning policies that have been identified as both good cleaning practices and leaving minimal environmental impact. Learn more about LEED-GB requirements here.
There is also an Honors designation for organizations who met an even higher level of standards.
All organizations must apply for recertification every two years. This ensures that an organization continues to meet and uphold these standards.
Janitronics and CIMS
At Janitronics, we are always striving to provide quality cleaning services to our clients. Obtaining our CIMS certification is one of the ways we show this commitment.
This is not our first time earning the CIMS certification; in fact, this one (awarded 2021) will be the sixth time we've renewed it.
Get the experts of cleaning on your side. Contact us today.