"Spring cleaning" is a tradition that can be found throughout history around the world, going under many different names. The motivating factor, however, remains the same: spring cleaning helps us transition into warmer weather and clean out the messes that winter has allowed to get into our spaces.
This year, as we continue to deal with COVID-19, it's important to think about spring cleaning in terms of your workplace. Whether you work in an office, classroom, medical facility or manufacturing plant, spring cleaning can be daunting. Even if your workspace has been vacant, it's important to give yourself a clean slate as you return to work.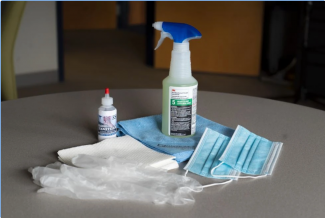 We offer two lists to help you tackle your spring cleaning: one for the bigger workplace spring cleaning tasks, and one for smaller daily tasks so your cleaning list doesn't become too long. No matter what your office space looks like, from traditional layouts to unique setups, these tips are sure to help.
Spring Cleaning Tasks
Go through your workspace a section at a time. Cleaning everything at once can be overwhelming. By splitting the space into smaller sections and cleaning one section at a time, you divide your task list and make things more manageable. Also, each section you clean is a small victory that can increase employee and coworker morale.
Clean your windows. Most of our windows have been shut tight during the winter and are due for a proper cleaning. Depending on the type of window, you will need to clean the glass and screen. It's also a good time to take care of the blinds and shades.
Clean the flooring and doormats. In Northeastern states like New York and Vermont, winter means that the floor gets a lot of slush and salt on them. Use spring cleaning as a time to get your floors properly cleaned. Give a thorough cleaning to your doormats too, and replace them if needed.
Get your ceiling fans and air conditioning units cleaned. With the approach of warmer weather, it's good to have them prepared ahead of time.
Disinfect your trash cans. This is something that is often overlooked; trash cans are meant to be filled with dirty things. However, we all have to handle the trash can at some point or another. By disinfecting your trash cans, you can prevent some of the long term biocontaminants from hanging around.
Get your furniture professionally cleaned. Regularly scheduled cleaning for your furniture can not only make them look brand new but will also extend their life.
Do a deep clean of your kitchen. Kitchen spaces tend to not get the full cleaning that they need, which means that messes can grow almost unnoticed. This includes cleaning out the refrigerator and cabinets, and identifying potential issues before they get worse.
Don't be afraid to break the spring cleaning out across several days. Sometimes, there's just too much to do during the day. Spreading the cleaning tasks over a week can keep morale up and help break down those daunting tasks.
Daily Cleaning Tasks
Many of these items are aimed towards one goal: reducing the buildup of mess. These smaller tasks not only make it easier to clean up messes, but helps maintain a cleaner space over time.
Know where the cleaning supplies are, and when and how to use them. One of the best ways to prevent messes from getting out of hand is to know how to address them immediately.
Wipe tables and desks daily. This prevents the buildup of dirt and biocontaminants, which makes it easier to clean and maintain in the long run.
Make a vacuum schedule. It's much harder to vacuum a spot that's been dirty for months than one that is messy for only a few days. You can make a schedule for vacuuming certain spots on certain days, or a day where everything is vacuumed.
Vacuum noticeable spots. In addition to a vacuum schedule, it's important to vacuum noticeable spots as soon as possible. If you don't, more likely than not those messes will be absorbed into the carpet before the next scheduled vacuuming.
Professional Cleaning
Sometimes, there are cleaning tasks that need an expert's touch. From a scheduled deep clean to nightly cleaning crews, Janitronics is here to help.
Reach out to our offices in Albany, Buffalo, Rochester, Syracuse or Burlington using our contact form here.