What can we do to promote a healthy office during the COVID-19 pandemic?
Every business owner and employee wants a workspace where they can be productive. However, it's hard to be productive when sickness can spread like wildfire. With the additional concern of COVID-19 this year, there are understandable concerns.
Below are some things you can do to keep your office a safe and healthy space. Following these steps will promote health and cleanliness in the office and mitigate potential illness.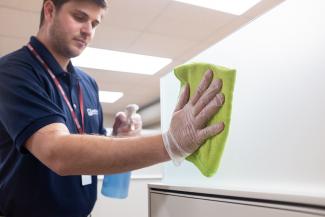 Keep track of which communal items are touched the most in the office. This list can include the copier, the refrigerator, and a communal stapler. Having this list will help you figure out what items need to be sanitized or disinfected throughout the day.

In many cases, you will have to remove some non-essential items, including the coffee maker. You can consider offering alternatives like individual drinks or encourage employees to bring their own, by gifting travel mugs.

Put boxes of tissues in areas that people frequent and make sure that they are visible.

If possible, have hand sanitizer available in high traffic areas which may be far from a sink.

See what tasks can be mitigated to electronic variants. The less shared papers in the office, the less chance of sharing germs.

Discourage handshaking. Find an alternative gesture that works instead.

Consider staggering the work schedule, if possible. This can be done many different ways, including: on/off days, shorter in-office shifts, and even spreading out lunch and break times.

Check the air quality of your office. Not only is this good during seasons of sickness, but improved air quality has been shown to improve productivity.

Review the office layout. Is the current arrangement of desks and supplies spaced evenly enough, or are the clusters and high-traffic areas posing a health risk? Even adding barriers between desks can mitigate some of the risk, although we recommend rearranging if possible.

Have disinfectant stations set up throughout the office, and encourage employees to wipe down their desk before and after work.

If you have to clean your workstation, remember to clean it of dust and dirt before you disinfect. Disinfecting alone will not be effective.

Make sure your employees know how to properly use personal protective equipment (PPE). They should use it when they cannot socially distance themselves, or when they're in high traffic areas.

Update and review the sick policy, and have a meeting with your employees about them. It is important that everyone is on the same page.

Know who you need to contact if a medical accident has happened, or where the cleaning supplies are.

Talk to the janitorial staff. Everyone should be on the same page, and they have invaluable observations and experience that you can use.

Pay attention to other work hazards. It does no good just to worry about sickness if your employee's health is endangered by trip hazards.

If someone is sick, tell them to go home. It can be hard sometimes, but they are putting the rest of the office at risk.
Janitronics knows that keeping an office clean can be a daunting task. We offer cleaning plans, as well as consultations to help you remain efficient and effective. To reach us, fill out the contact form here.