How can I achieve my New Year's resolution to have a clean office and workplace?
New Year's resolutions serve as important goals for the coming new year. Many people include a resolution to keep a cleaner workplace. Our team at Janitronics can definitely help you maintain a clean and healthy working environment for employees and customers. However, every employee can pitch in to help keep the goal of maintaining a clean workplace a reality.
Below is a list of helpful advice to keep your workplace clean year-round.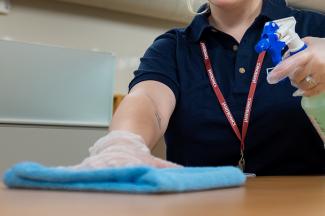 Look back at the past year and figure out what worked and what didn't work. You may have learned some cleaning tricks that work wonders, while others failed to help. It's a good time to review and adjust them as you plan for the next year.
Pick out days throughout the year to become "cleaning days." Many people get new calendars and planners for the new year. Pick a day or two a month as designated cleaning days and write it down. Even if you don't know what lies ahead for your schedule, it is easier to reschedule your cleaning days than to forget about them.
If you plan to start the new year by cleaning, divide your workspace by areas and clean one area at a time. This breaks up the overwhelming task and allows you to prioritize each area as you get to it.
If you can, plan for the changing seasons of the year. Each season has its own unique traits; you may need to clean the floor more often during the winter, while you may need an air purifier during the spring when allergies run rampant. Making a list of what will need to be looked into, as well as some early target dates of when to start transitioning, can help greatly.
Make a communal office list of cleaning tasks that need to be done. Employees may have noticed something that others haven't. It also helps everyone understand what level of cleanliness you are aiming for.
Use this time to declutter your office. It's also a good time to see if anything needs to be replaced.
Start your new year by getting professionals, like your friends at Janitronics, to do a deep clean of your office. This includes professional carpet cleaning and window cleaning. You can also work with them to find the best deep cleaning schedule to fit your needs.
If possible, make a list of small daily and weekly cleaning tasks that can be done. Messes can pile up if the areas are not regularly cleaned. By investing a little bit of time daily or weekly, you can cut out a lot of future frustration.
Include digital cleaning with your cleaning plans. Both computer software and hardware can easily be overlooked when it comes to cleaning. Go through and organize the files on your computer. Review manufacturer instructions for how to physically clean any computers or electronic equipment.
Talk to your cleaning staff. They may have noticed if something needs to be addressed or has been overlooked.
Review office plans for emergencies. 2020 was an unpredictable year for many offices, especially with the COVID-19 pandemic. It's a good time to go over your emergency plans, and update any that need to change.
Reward everyone once the cleaning is done. Even bringing in some treats can greatly improve the mood, and celebrate a job well done.
Help From the Experts
Janitronics works year-round to make sure environments are both clean and healthy. We offer a variety of services and products to help you keep your workspace clean.
To reach out to us, use our contact form here.