Coronavirus: 
Increasing Our Cleaning Practices Amid An Outbreak
Quick Links
Stay up-to-date by visiting:
Coronavirus (COVID-19) has swiftly spread and has infected thousands throughout the world. In the United States there are quickly changing reports of confirmed cases, and the concern is growing. Janitronics goal is to provide a level of competence and professionalism in managing and mitigating your risk. Advanced and systematic cleaning and sanitizing practices are targeted at protecting human health far beyond standard cleaning applications. According to the Center for Disease Control and Prevention (CDC), cleaning and sanitizing practices are a part of a very broad spectrum in the prevention of infectious agents from propagating, but we are able to provide clarity on what can be done to help.
COVID-19 is spread primarily through person-to person contact. 
Proximity to others (6-feet) leads to increased risk of contracting the virus. Respiratory droplets are produced when an infected person coughs or sneezes. By following Sneeze and Cough Precaution, this can be mitigated. These droplets can land in the mouths or noses of people  who are nearby or possibly be inhaled into the lungs. 
Spreading from contact with infected surfaces or objects. 
When an infected person touches an object, typically a light switch, door handle, telephone, etc. the chances of contaminating that surface are increased and can be passed from one person to another through surface contact. This chain of infection can be easily broken through basic intervention methods such as hand hygiene and avoiding touching the face (eyes, nose, mouth). 
How long does the coronavirus remain infectious?
Evidence from CDC and other healthcare professionals state the virus can survive up to nine days. Precautions of up to 14 days for quarantine and self-isolation are recommended practices.
Environmental Infection Control
By simply wiping a surface with a disinfectant does not necessarily do anything for the elimination of microbes. The surface must remain wet up to 10 minutes for the disinfection solution to kill the bacteria and viruses that are living on the surface. For large facilities or surface areas- the use of alternative products and processes might be necessary and Janitronics has the tools to aid in that. 
---
We recognize that maintaining a facility is not a one size fits all approach, which is why we are offering several options for facility touch point cleaning. Each program is specifically designed to fit different needs based on application and choice of implementation.
Through increased levels of clean and perception to ongoing and preventative measures, Janitronics has the right solution to fit the needs of your facility. Using our current cleaning program as a foundation, we add our additional service and/or product without overextending valuable resources, while maintaining high levels of quality.
Touch Point Cleaning Program
Options
Hand Sanitizers & Stations
Self-Cleaning Surfaces
Electrostatic Spraying Services
Hands On Touch Point Cleaning
---
Hand Sanitizers & Stations
Janitronics offers implementation, installation, and maintenance of Purell Hand Sanitizing Programs that both targets levels of clean and perception of building occupants and visitors. 
Benefits
Rapid installation
99.99% effective in preventing the spread of germs
Promotes good hygiene and health
Reduces waste
Inexpensive
Faster than hand washing
Increased facility exposure vs. sinks
Does not promote antimicrobial resistance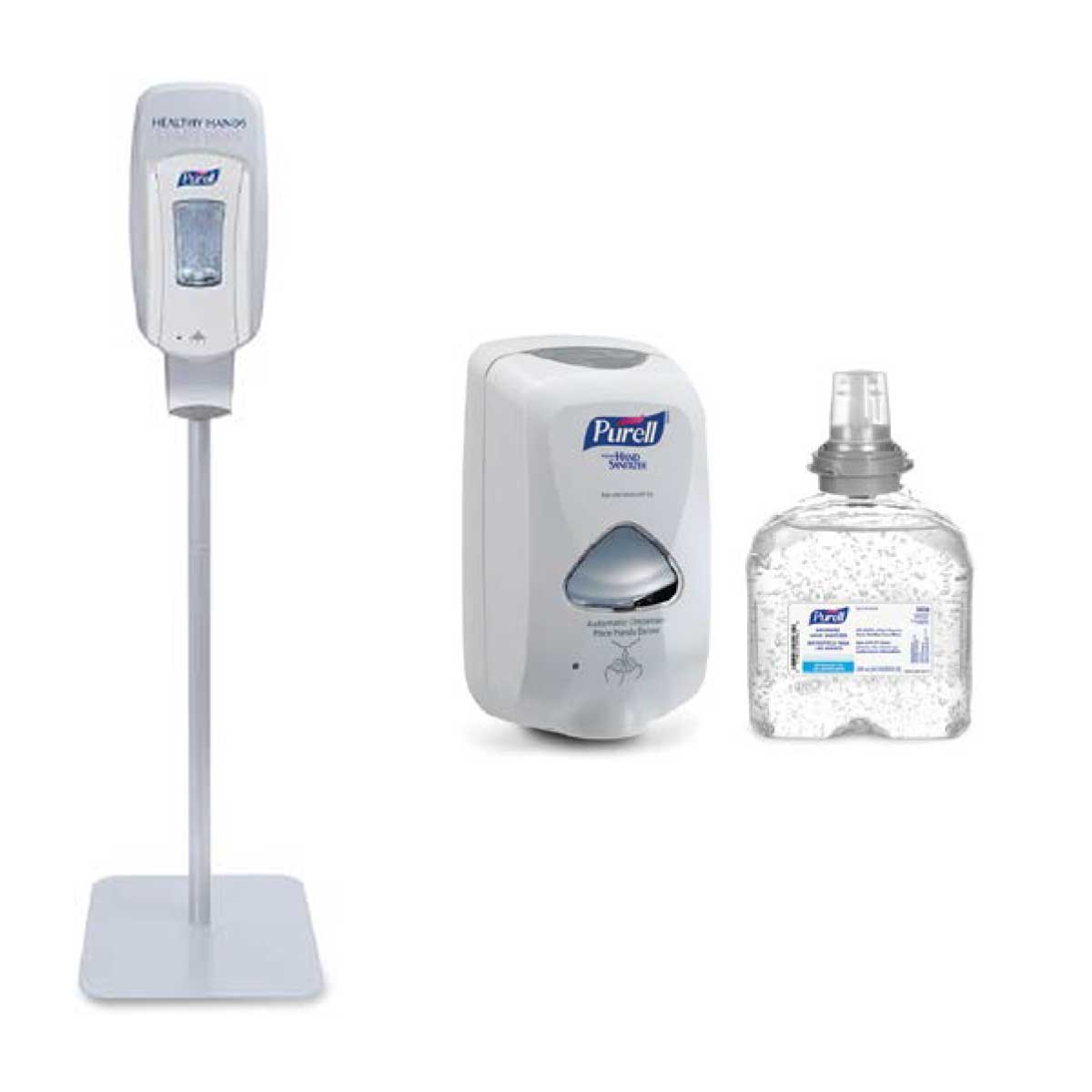 ---
Self-Cleaning Surfaces
Unlike disinfection solutions, self-cleaning re-clean themselves each time the surface is touched providing you continuous coverage long after cleaning stop, 24/7. 
The Process
Apply on any facility touchpoint
Touch the surface
Photocataylic Oxidation occurs when light (UV, Flourescent, and Sunlight) hits the surface
Each time a hand touches the surface, a non-toxic reaction is triggered that is stronger than bleach
Replace when worn or damaged, typically within 90 days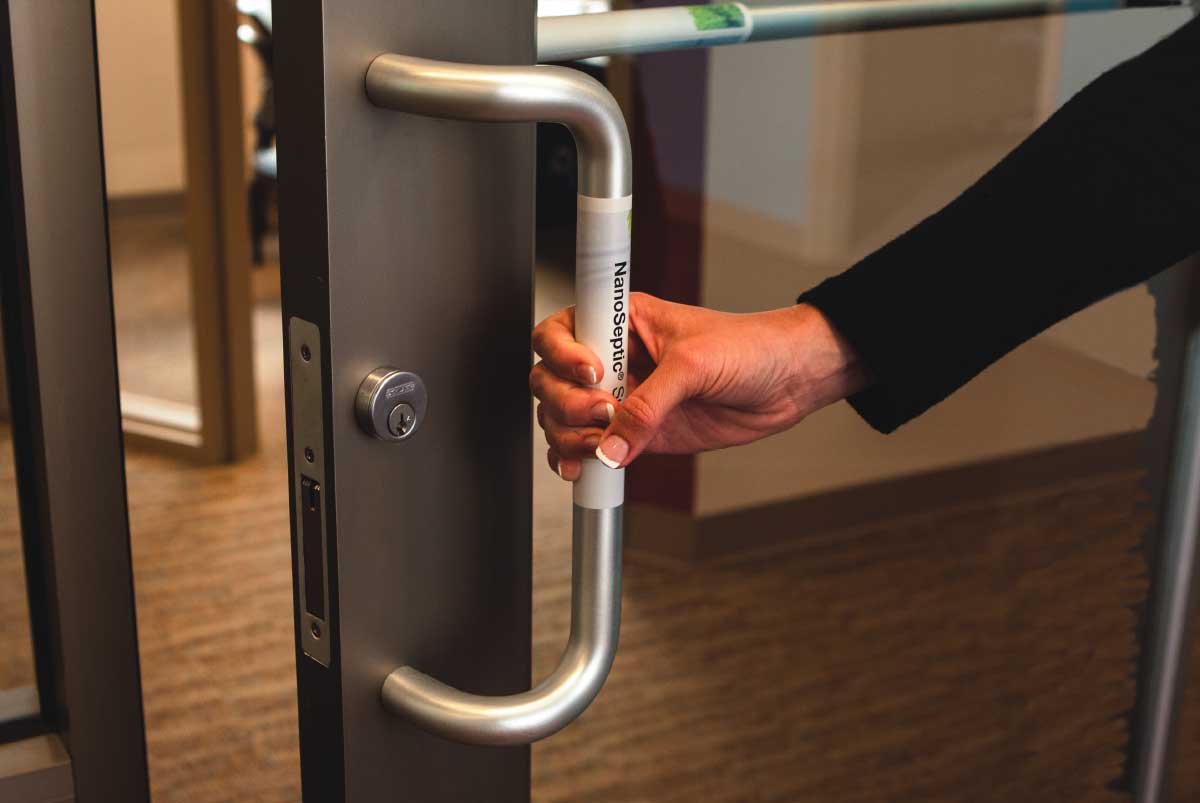 Benefits
Preventive approach to maintaining healthy environments
Zero chemicals, toxins, heavy metals used. 100% pesticide free
Safe for children
+90-day life span. Mats are good up to 1 year. 
Custom branding (minimum order required)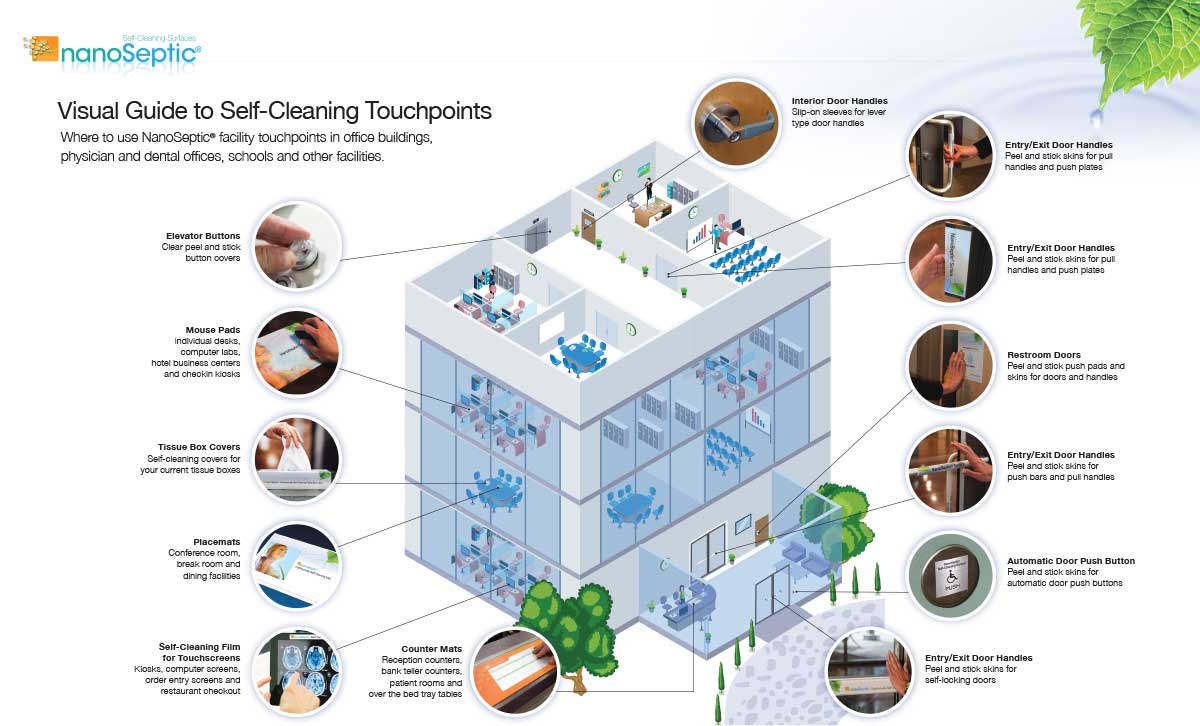 ---
Electrostatic Spraying Services
Sanitize with confidence with Janitronics' electrostatic spraying service. This is the  fastest and easiest way to sanitize your facility  with a more consistent application. The touch-less delivery covers 360 degrees of coverage - wrapping completely around the surface or object uniformly, offering a time savings of over 88% compared to any chemical application, disinfection or sensitization process.
EPA registered sanitizer and disinfection tablets easily dissolve in water
Safer for humans, materials and the environment
Eliminates and controls odors
NSF D2 Certified Food Contact Surface Safe Sanitizer at 100 ppm
Kills Norovirus, MRSA, Cold and Flu viruses
FAC85: Environmentally Preferable Cleaning Products
NIOSH/OSHA compliant
Safer alternative to bleach with no compromise on cost, efficacy or convenience Self-Cleaning Surfaces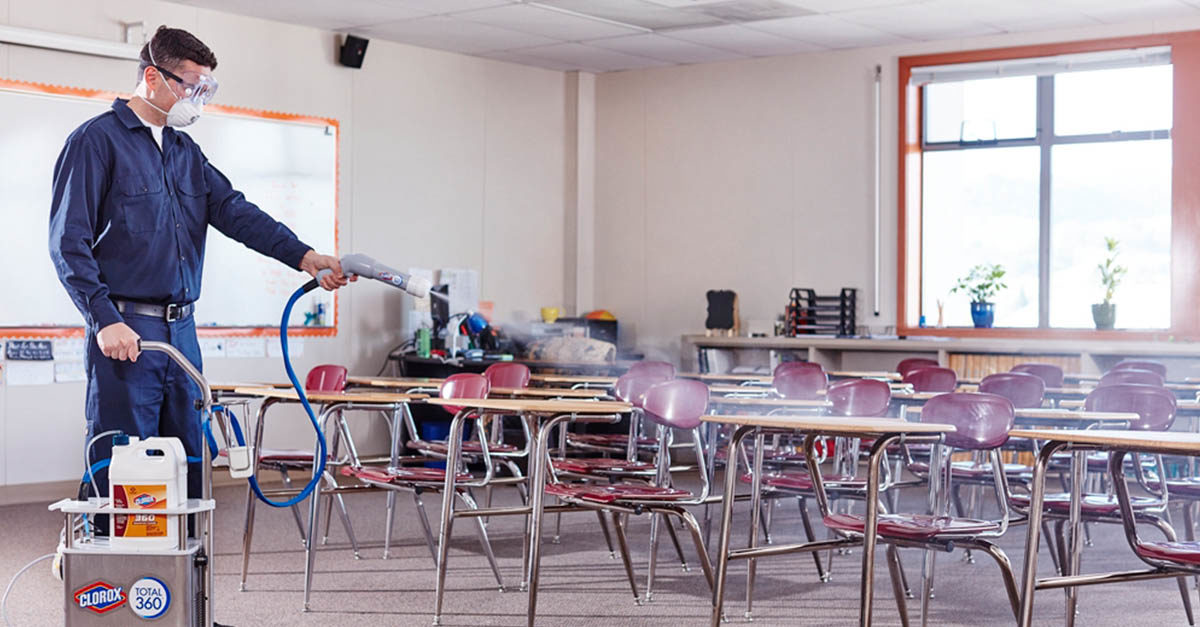 ---
Hands-On Touchpoint Cleaning
Janitronics provides additional services on facility touchpoints separate from standard cleaning  operations. Increased visibility of cleaning and building occupant perception of  cleanliness skyrockets with our facility touch point cleaning service.
This offering is microfiber and EPA-registered disinfection solution on high risk areas (entranceway, break areas, meeting areas, common spaces, etc.) focused on high-touch objects and is tailored  to fit the needs of your facility.
Benefits
Deep cleaning of frequently touched areas
Increased exposure of cleaning to building personnel 
Inexpensive
Rapidly implemented