Coronavirus — Repopulation Done Right
During this unprecedented time, we now begin the planning phase of safely repopulating buildings. With human safety being the primary focus, Janitronics has assembled proven recommendations to assist our valued partners reintegrating the work population. During this pandemic, Janitronics has remained fully operational servicing some of our most critical markets in the medical, pharmaceutical, manufacturing and other essential industry. We have gained valuable experiences which can easily translate into other facilities as they reopen. We also rely heavily on the recommendations from our regulatory agencies and industry experts and rapidly adapt to changes.
Clean4Health
Clean4Health is our four-phase, tactical approach to stage your facility for repopulation, while creating a sustainable, clean and healthy environment.
Plan 
If you can't measure it, you can't manage it.
Our processes are created from a customized data collection program. Every facility is unique. We know that layout, traffic patterns and shift population differentials matter immensely. Analyzing this information helps us craft the best overall cleaning strategy for your specific needs.
Mitigate
Next, our certified professionals will execute our state-of-the art cleaning program to give your facility a baseline to safely repopulate. 
From touch point cleaning, to electrostatic spraying and self-cleaning surfaces, our team uses industry-leading technology to mitigate the risks posed by COVID-19. We also provide educational support to help your employees adjust their behavior to maximize cleanliness and safety.
Protect
Moving forward, Janitronics will protect your facility with scientific protocols developed to keep your employees safe. There are millions of bio-contaminants, including COVID-19, that go unseen by the naked eye. To defeat these microscopic threats, we utilize cutting edge technology and the best cleaning systems that exist.
No matter the surface or the situation, we are prepared to give you a healthy, clean environment.
Manage
Janitronics adheres to a rigorous service delivery system, ensuring continual improvement and quality management. Our managers understand systems, personnel, and most importantly, your needs. Our comprehensive management and reporting results in a quick response and the ability to anticipate your needs.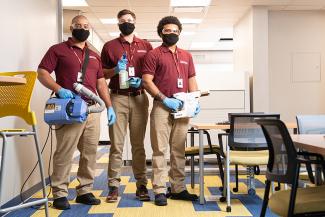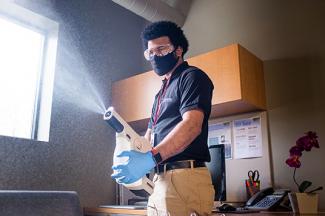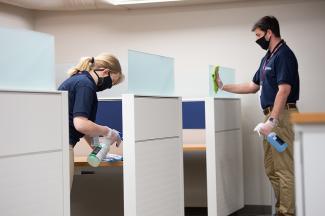 Employee Safety
The first and most important fundamental relative to keeping each other safe is strict adherence to "stay home" when anyone feels ill or displays any symptoms.
When at work, Janitronics can assist each customer assess the area(s) which employees should wear facemasks and where they can work safely without a face covering. We still encourage anyone who can efficiently perform their responsibilities from home continue to work from home.
COVID-19 Hotline
All Janitronics branch offices are staffed from 8:00a-5:00p with an Operations Coordinator who will serve as a COVID-19 hotline liaison.
Should you have any COVID-19 questions or have a request for emergency services, these individuals will be able to immediately answer questions or rapidly connect you with someone who will assist.
Personal Protective Equipment (PPE)
There is a variety of personal protective equipment designed to protect employees from a host of potential hazards, COVID-19 not withstanding. However, many individuals who are not accustomed to wearing PPE do not understand specifics relative to:
What am I protected against?
How does wearing PPE protect others?
How important is maintaining PPE?
Our Partner, Concepts4Cleaning Consultants can provide employee education and training on a variety of health and safety topics to assure employees remain compliant.
Need help repopulating your facility? Janitronics is here for you.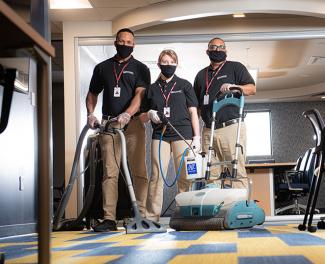 Entrance Protocol
Controlling the volume of individuals coming into your facility is essential to minimizing risk to other occupants. Janitronics can assist you in customizing an entrance protocol program which customers can implement or have Janitronics perform this service. Some key components would include:
No-touch temperature readings of anyone entering your facility
A verbal or written questionnaire

Do you display any signs of coughing, fever, fatigue, body aches?
Have you traveled to NYC or outside the US in the past 14 days?
Do you have any known contact with someone who has been confirmed COVID-19 positive in the past 14 days?

Distribution of your required PPE or verification the individual possesses.
Visual confirmation anyone entering sanitizes hands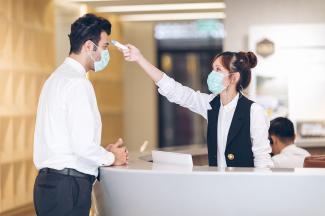 Posters and Constant Reminders
Janitronics can strategically place signs and posters which constantly remind employees the importance of following hand washing and PPE protocol.
Identifying the location of hand washing stations
How to best cover your nose and mouth to cough and sneeze 
How to periodically sanitize your work station
Common Area Evaluation
Some buildings have the space available to set up social distancing in break rooms and other areas. Regretfully, other areas do not. Janitronics can assist in evaluating each building to establish the safest means to have employees
Take lunch and other breaks
Minimize congestion in restrooms
Determine if employees should wear face coverings when in assigned workstation.
Evaluate suitability of condiment, utensils and other shared products in break areas
---
Products and Services
Janitronics offers a variety of products and services customizable to meet the needs of all facilities.
Touch Point Cleaning
We will gladly provide each customer many options for periodic and continuous touch point cleaning. TPC not only contributes towards a healthy facility, it allows peace of mind to those working knowing their health is important.
Emergency Cleaning
We also have an emergency response team to decontaminate any areas impacted should an employee be confirmed COVID-19 positive.
Vehicle Sanitization
For customers with fleet or shared vehicles, golf carts, material handling equipment, Janitronics offers electrostatic spraying services which will safely sanitize all touch points from the steering wheel to the radio controls.
Self-Cleaning Surfaces
Utilizing innovative nano-technology, Janitronics offers self-cleaning surfaces. NanoSeptic Skins and Mats turn dirty high traffic, public touchpoints into continuously self-cleaning surfaces. Powered by light, NanoSeptic surfaces utilize mineral nano-crystals which create a powerful oxidation reaction. Working 24/7, the surface continually oxidizes organic contaminants. Unlike traditional disinfectants and cleaners, the NanoSeptic surface uses no poisons, heavy metals or chemicals, and nothing is released from the surface since the nano-crystals are molecularly bonded to the material.
 
Visit our store for a complete list of products available.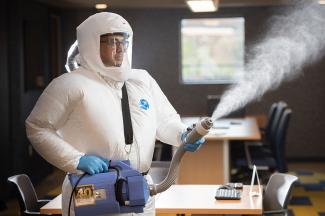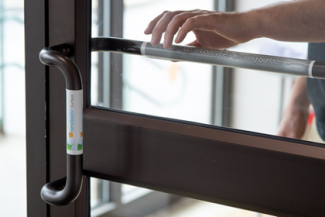 Quick Links
Stay up-to-date by visiting: