Janitronics Buffalo 
Our team in Buffalo, NY is ready and willing to tackle all your cleaning needs. From large to small, we'll be sure to give your business a clean start.
Buffalo isn't known as the City of Light for nothing. Western New York has led the way in development and innovation throughout history, and continues to change and adapt to the world its created. But the City of Light cannot shine as brightly if cleanliness and health aren't a priority. From the array of increasing innovations to the longtime staples of business and education, everyone should be able to shine brightly.
Janitronics has over fifty years of experience, with a wide array of satisfied clients. No two clients are the same, and we know how to create and execute cleaning plans to match their unique needs. So you mind your business, we'll keep it clean.
Our Buffalo offices proudly serve Erie, Niagara, Chautauqua, Allegany, Wyoming, Genesee, and Orleans counties.
Here to serve you
Covering Buffalo, NY and surrounding counties, including:
Erie  |  Niagara  |  Chautauqua  |  Allegany  |  Wyoming  |  Genesee  |  Orleans
Janitronics Buffalo Office
3230 Union Road, Cheektowaga, NY 14227
(F) 716-393-3704
Markets Served
Janitronics has worked hard to maintain clean and healthy environments for over fifty years. These are just some of the areas we've worked in:
Academic
Western New York has a wide range of amazing schools, all aimed to help develop our future generations. And no one, student nor teacher, goes to school to get sick. When there are hundreds of students moving through your school daily, you need the experts to keep the building clean and healthy.
Medical
With one of the oldest medical schools in the country, Buffalo has led the way in the shaping of many medical minds and advancements in the field. The necessity of a clean and healthy environment has stayed the same. We know the importance of cleanliness, and continuously update our procedures to match the latest science.
Controlled
Western New York has been the site of many innovations that have changed the world. Some of them can only be created and commercially produced in specialized controlled environments. Janitronics is committed to giving the best care when we clean. Our meticulous cleaning plans and systems show our dedication in providing our clients with the best value cleaning.
Industrial
The industrial roots that started over a century ago have evolved and changed in many ways. For every industry, the people and machines that build your systems are all vital in different ways. But all systems, no matter their design, fail when things are not clean. From protecting health to ensuring the machinery works, Janitronics can help you clean both.
Office
Messy offices, no matter the cause, can easily become unproductive offices. Making sure you have an efficient and effective cleaning plan, whether it's a daily routine or enhancing your efforts through 24/7 Protection, can make all the difference.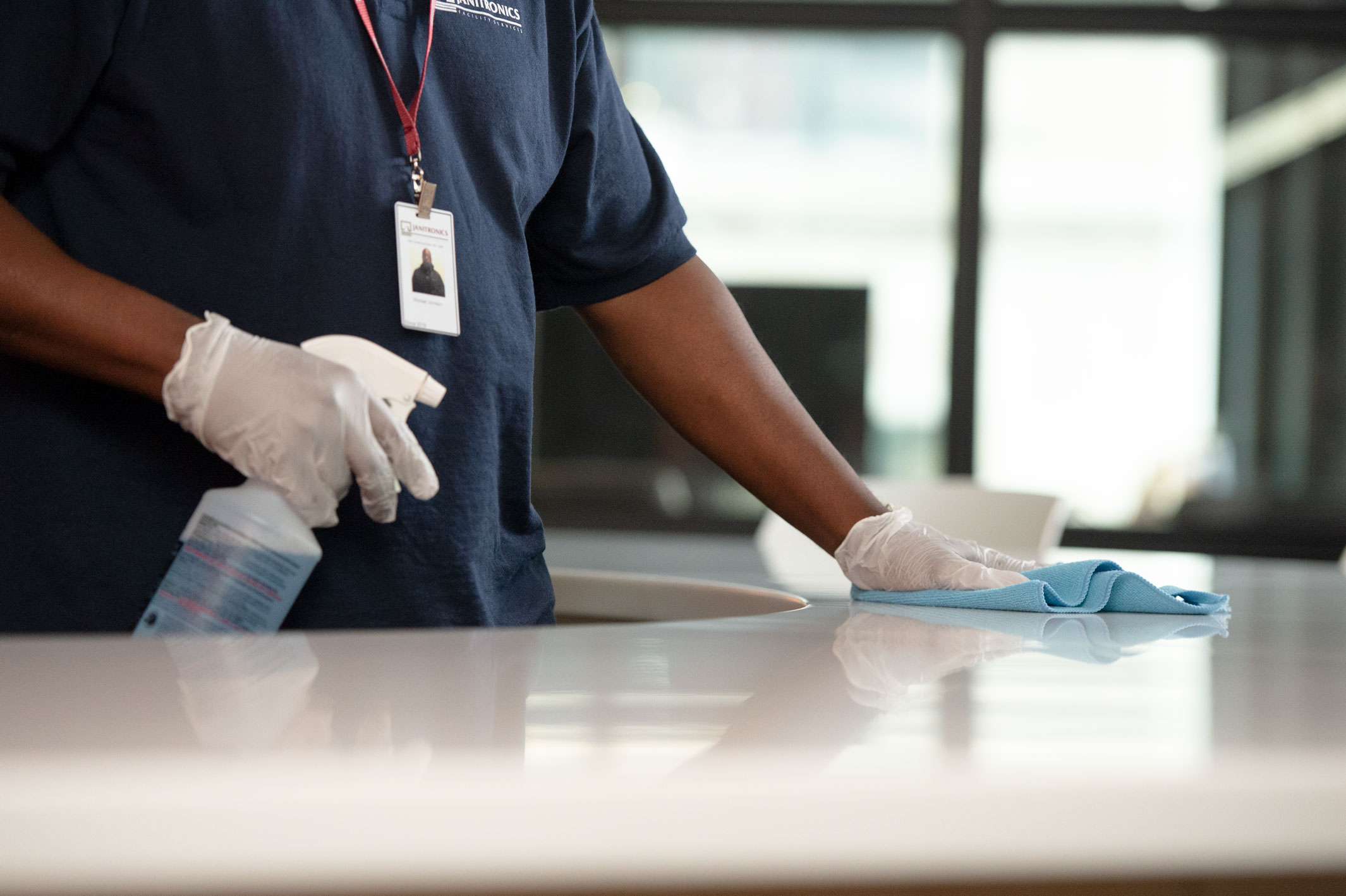 Special Services
To meet your facility's needs, Janitronics Buffalo offers a wide array of services. Our most popular services include:
Construction cleaning
Sometimes making things better involves getting the place messy. Let us help make that new project shine.
Carpet Care
Regular carpet care not only makes the carpet look nice, but extends their lifespan.
Floor Care
Rain or shine, floors take it all. We can not only clean them, but make them more durable for the future as well.
Bathroom Tile Care and Ceramic Tile and Grout Restoration (SaniGLAZE treatment)
A proper SaniGLAZE treatment can leave your tile sparkling and dirt-resistant.
Disaster Cleaning
Even in an emergency, don't settle for bad cleaning. Proper services can make recovery easier.
Medical (Terminal) Cleaning
When detailed cleaning is a matter of good health or bad, we're ready to help.
Window cleaning
Windows work best when they are as clean as they can be.