Janitronics Albany
Our team in Albany, NY is ready and willing to tackle all your cleaning needs. From large to small, we'll be sure to give your business a clean start.
Janitronics started in Albany, NY in 1972. The capital region to this day remains our home, and we remain as loyal as we did on our first day of business. As the area hosts a diverse collection of facilities, from businesses to academic buildings to medical facilities, Janitronics Albany continues to meet the needs of the area. With our dedication and the science of cleaning, we can help you keep your facilities in excellent condition.

If you need exceptional cleaning services at reasonable prices, we're on it!
Our Albany offices proudly serve the Capital District region and neighboring counties.
Here to serve you
Covering the Capital District region and surrounding counties. 
Janitronics Albany Office
1988 Central Ave, Albany, NY 12205
(P) 518-456-8484
(F) 518-456-6445
Markets Served
We take care to serve the markets that serve Albany best
Academic
Schools in Albany have been the site of many academic advancements and achievements. Don't let them become a site of sickness. Janitronics is prepared to put the science of cleaning to work for you.
Medical
Albany has long been home to some of the premier medical services in the state of New York. You can't let sickness threaten the health of patients. Janitronics is prepared to meet and exceed cleaning standards to protect health.
Controlled
Some technology and innovation require the strictest of clean environments. Janitroncis has the experience to meet those standards so that you can continue your work without worry.
Industrial
With industrial roots that go as far back as the 1800s, Albany continues to play a pivotal role in the sector. Cleanliness remains just as important now. Let Janitroncs work with you to make a customized plan that meets your needs.
Office
A good office gets things done. Don't let mess and sickness interrupt your workflow. Get the experts of cleaning on your side and put biocontaminants out of the job.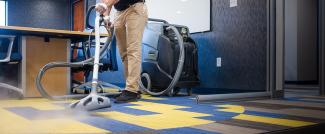 Special Services
The Capital Region has a diverse selection of businesses. Janitronics offers an equally wide array of services to meet your needs, including:
Construction Cleaning
No project looks complete if there's still a mess. Let Janitronics help your project shine.
Carpet Care
Appearance and longevity go hand-in-hand with proper carpet care.
Floor Care
Floors can make or break a whole room. Make sure yours are in top condition.
Bathroom tile care and ceramic tile and grout restoration (SaniGlaze treatment)
Not only can you restore your tile flooring, but also make it easier to clean as well. Get SaniGLAZE's state-of-the-art treatment.
Disaster cleaning
Don't let a disaster define your facility. Janitronics' disaster cleaning can get you back on track.
Medical (Terminal) cleaning
You put care in the services you provide patients. Let Janitronics put the same care in cleaning your critical spaces.
Window cleaning
Keep your view of the world crystal clear.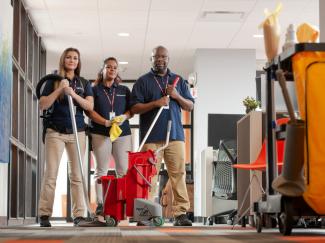 Setting the standards
We are dedicated to not only our customers, but our staff as well. We exceed in setting the standards for quality management and are certified with ISO 9001:2015 standards.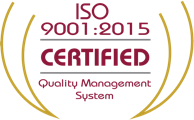 ​